What It's Like To Run A Drone Program For UK Police Operations
Interview with Tom Shainberg, Senior Drone Pilot of Devon & Cornwall Police
According to an independent study from HMICFRS (Her Majesty's Inspectorate of Constabulary and Fire & Rescue Services)1 conducted in March 2017, over 65% of UK 'police forces 'had either purchased at least one drone or had ready access to one,'. However, with the ever increasing number of media reports involving police using drones, this number is sure to have increased.
Just one of the forces benefiting from drone technology is Devon & Cornwall Police and Dorset Police who have formed a Strategic Alliance. We caught up with their Senior Drone Pilot, PC Tom Shainberg to tell us more about their use of drones within the AllianceDrone Team.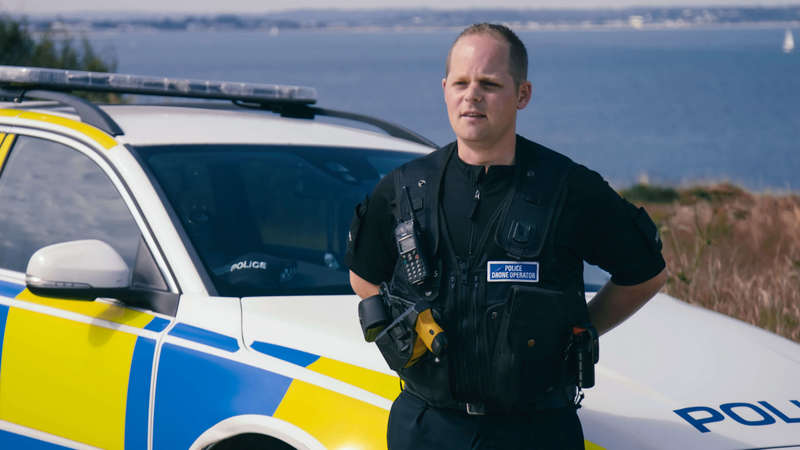 Q: Your Drone Alliance team was formed in 2016 – how did you first get involved with drones for police operations?
A: My father had been using drones since 2013 in his own aerial photography business and I immediately saw the huge benefits it could provide us in the police. So a colleague and I approached senior officers with a proposal to run a trial into whether drones would be a beneficial asset and add value to the police force's capability. The trial was very successful and we've gradually grown from 3 people using 2 drones to the point where we now have 30 drones in our fleet and we're about to reach 59 pilots across Devon & Cornwall Police and Dorset Police; we were the first police force in the UK to have an operational, stand-alone drone unit – something we are very proud of.
Q: How many drone operations has the team conducted since its inception and what type of operation is the most common?
A: We've completed nearly 600 separate deployments so far and I'd guess that's not far off 15,000 minutes in the air. It's worth mentioning that some jobs have multiple flights and some of our deployments can span over a number of days. 350 of those deployments have been in the last 12 months alone and we're hoping that in the next 12 months we'll do another 500 deployments. We deploy to a huge variety of police related matters, the most common incidents tend to be missing people searches, firearms operations, road traffic collisions, crime scenes and major events (such as football matches or large music festivals) but we also support our partner agencies such as the fire service.
Q: What are some of the challenges you faced, how did you overcome them and what lessons have you learned?
A: It's been a pretty big challenge introducing a new capability into the police. Not only is it new technology in general but we're also trying to integrate drones into everyday policing. It's not like trying to introduce mobile phones, everyone already has one and knows how to use them. With drones it's completely new ground for everyone involved so there have been some steep learning curves along the way, from how we incorporate drones into existing tactics to securely manage the data we gather in accordance with other police policies. As we've grown it's become challenging to manage a fleet of drones and a large number of pilots. In the early days of having a couple of drones it was easy and only two of us used the equipment. Now that we have a fleet of 30 aircraft, shared by over 50 pilots and located across 5,000sq miles, it's a challenge to keep all our drones on the latest firmware, to make sure they are well maintained and to keep them deployable. It's the same for our pilots, they have to compete a certain number of hours each month to remain operational so managing that can be tough which is why we're about to introduce a new dedicated Flight Management System, which is a piece of software that will help manage our assets and pilots.
One final challenge I'll just mention, is how we often struggle demonstrating to people that we're not simply flying a toy around where ever we like and whenever we like. There are quite strict laws on where you can and cannot fly drones in the UK and the police have to follow those just like everyone else. There's a huge amount of work that goes on behind the scenes just to keep the team operational, on top of that every time we fly at a planned operation there's a minimum of a couple of hours of risk assessments & planning. For the more complex operations it can mean days of prep work, but people don't see that side of what we do, they see us turn up and deliver this amazing capability for them.
We've really only made it a success by the dedication from the team and the support from senior officers. A lot of the time the imaging speaks for itself and its true what they say, a picture paints a thousand words….especially if that picture is an aerial picture from a drone.
Q: You have witnessed the development of drone technology. What would you describe as the most valuable advancements of the hardware and payload portfolio?
A: I think two advancements that are benefiting us in the police are longer flight times and better payloads. When I first started using drones we would struggle to have 10 minutes in the air and we could only carry a GoPro during the daylight. We're now only a few years later and we can get over 30 minutes of flight whilst using cameras that can see things over 1km away and use thermal imaging cameras giving us true 24/7 operations. We're now also able to communicate with people through a speaker on the drone, I never envisaged we'd be able to do something like that. I often talk to people about 'the old days of flying drones' but in reality that's only five years ago, so I can only imagine where we'll be in another five years.
Q: You have been using the DJI Mavic 2 Enterprise Dual for some time now. How has the drone performed?
A: The M2E is a great drone, it's so quick to deploy and gives us eyes in the air when we need them. Due to the size of our force and the area we cover (nearly 5,000sq miles) our Armed Response Vehicles (ARVs) provide our spontaneous drone capability, they are out patrolling the three counties 24/7 and due to the amount of equipment they carry space is at a premium. They're not able to carry a bigger drone so the M2ED gives great balance between size/weight and its capabilities. Some incidents require getting a drone in the air as fast as possible, such as an active foot pursuit where time is of the essence so the M2ED really ticks the box in supporting that type of deployment.
Q: What do you think are the biggest benefits of the M2ED?
A: As I said before, it's our Armed Response vehicles that provide a spontaneous capability and with the restrictions in the space they've got to carry things they've not been able to have a thermal capability until now. The M2ED gives them the option to deploy at night which has been a huge restriction for us and has now opened new doors. I have to say that the thermal camera on the M2ED is not as good as the XT camera on our M210 but the ability to have a drone that can be quickly deployed to search the area after a road traffic collision or after a pursuit is a huge advantage. Any drone is only good if it's there when you need it and the M2ED is doing that for us. We have two M210's and because of the area we cover it can often take a little a while to get it to where we need it, so the M2ED is filling the gap and gives us that initial tactic to get a thermal camera in the air very rapidly.
Q: If you could write a wishlist for future drone technology, what would be your three top wishes?
A: Top of the list is definitely better weatherproofing, we live in a country where it unfortunately rains for a lot of the year and currently the lack of waterproofing hugely limits our capabilities. Also the ability to fly in stronger winds. We have strong winds in our part of the country so between the wind and rain we often find ourselves not being able to fly. In our line of work, we try to save lives and gather evidence so we don't have the luxury of waiting for nice weather, when we need to fly we don't want to be hindered by the weather.
Secondly, longer flight times. As our use of drones has grown we're now regularly being used on operations that can last for hours at a time. Although we can stay at an incident all day by keeping batteries on charge we lose vital minutes over an incident when having to land every 25 minutes or so to change the battery so being able to stay in the air would dramatically increase the service we can offer.
I think finally I'd like to see advancements in payloads, we've come a long way in the last few years and the M2E has given us a great insight into how useful a spotlight and a speaker can be on drones. I'd love to see the ability for two-way communication, not just a one-way speaker, so we can fully communicate with people who find themselves in vulnerable situations. Zoom has been one the best advancements I've seen so far and has given us a massive capability jump from the Mavic Pro so I'd love to see event better optical zoom capabilities I'm sure there's lots of things that I've not thought of that drones could carry and I'm sure we'll see new payloads developed over the next few years. If you consider that a drone is just a platform to carry things then anything is possible, we're only limited by people's imaginations!
Q: Are there any last comments you would like to share?
A: It's such an exciting time in the world of drones and things are advancing at such a pace that it's often hard to keep up. We're also covering completely new ground using drones in the police service as it's something that's never been done before but I feel really privileged to be able be a part of it and I'm really looking forward to see where things go over the next few years and beyond.
Where to learn more:
• Contact DJI today to explore the benefits of commercial drones
• Learn more about DJI solutions for public safety professionals
• Download report to learn more about best practices of search and rescue usage of drones
• Subscribe to DJI Enterprise's newsletter to stay tuned with the latest commercial drone news
• Discover more at DJI's annual commercial drone conference AirWorks 2019
1. https://www.justiceinspectorates.gov.uk/hmicfrs/wp-content/uploads/planes-drones-and-helicopters-an-independent-study-of-police-air-support.pdf